Runaway Lives: Overcoming Emotional Undercurrents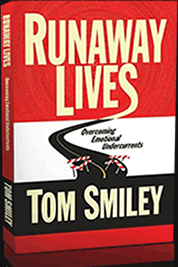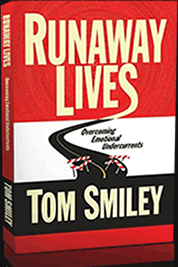 Runaway Lives: Overcoming Emotional Undercurrents
Runaway Lives: Overcoming Emotional Undercurrents
To purchase books, please send a check for payment to Life With Smiles PO Box 81 Gainesville, GA 30503 or you may email aleonard@lakewoodlife.org. You may also purchase any 3 books for $25 plus $4.00 for shipping and tax.
Dr. Smiley is the author of Runaway Lives: Overcoming Emotional Undercurrents. This powerful book is a must read for any person dealing with issues of self-worth, relationships and finding purpose in life. These undercurrents can lead to emotional, and even physical breakdowns – selfishness, worry, fear, envy, negativity,indecision, discontentment, impatience, temptation and busyness. Runaway Lives is a great group or individual study resource.
The topics covered by Runaway Lives will challenge your daily living and help you avoid a "runaway life" by identifying your emotional undercurrents.
Readers Respond
"I think of your book as 21st Century Proverbs. It points me toward practical and biblical resolutions to everyday life."

"I realized through your book how important I am to God."

"Many of the reasons you give for feeling out of control apply to me personally."

"This book was like a road map to recovery for me."

"This book gives logical reasons why lives spin out of control and practical steps to restore order and sanity to life."
Dr. Jerry Gill, Marriage and Family Therapist